Angkor Complex Zipline Adventure
Asia » Cambodia » Siem Reap » Siem Reap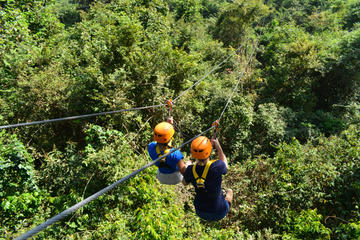 (5.0)
Duration: 5 hours
Departs: Siem Reap, Cambodia
Price from USD 119.00
Book Now
Take your adventure to new heights on a 5-hour zlipline tour inside UNESCO-listed Angkor Archaeological Park. This Flight of the Gibbon treetop adventure from Siem Reap takes you up seven staircases, across four hanging bridges and along 10 ziplines that cross over the jungle canopy with 21 platform stations in between. Two guides per group of nine ensure safety at all times and explain what to look for in the surrounding rainforest. Choose from three departure times that include round-trip hotel transport and a Khmer-style lunch.
After early morning, midday or afternoon pickup by minivan from your Siem Reap hotel, you're driven into the Angkor Archaeological Park where you're required to pay an entrance fee. Once inside the park, you'll take a zero-impact electric shuttle to the Flight of the Gibbon treetop adventure, which takes place not far from the majestic temples — including Angkor Wat and Angkor Thom.
Start with a detailed briefing and get fitted with state-of-the-art safety equipment, including helmet and harness, before you take off through the canopy. Built and designed with fun and safety in mind, the course is suitable for children (ages 6 and up) and adults alike.
You'll travel between 21 platform stations during the approx. 2-hour course, which includes 10 ziplines of varying lengths and heights, four hanging bridges spanning hundreds of feet, seven staircases and a relaxing treehouse, plus a 164-foot (50-meter) rappel descent to the forest floor.
Knowledgeable guides (two per small group of nine) enhance your experience with information about the ecosystem such as flowers and flora used by the local people. Flying high through the trees during your exhilarating adventure, enjoy fantastic views and be sure to keep an eye out for gibbons in the wild.
Enjoy a Khmer-style lunch with bottled water before your experience ends with return transport to Siem Reap and drop-off at your hotel.
« All Activities