Angkor Wat Helicopter Flight with Private Tour of Temples
Asia » Cambodia » Siem Reap » Siem Reap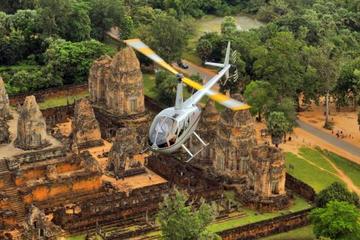 (5.0)
Duration: 11 hours
Departs: Siem Reap, Cambodia
Price from USD 582.50
Book Now
See Cambodia's magnificent Angkor Wat and other temple ruins by land and air on this private full-day tour! Explore the temples of Angkor Archaeological Park and take in the aerial views of the UNESCO World Heritage Site on a 20-minute helicopter flight. You'll visit the famous Bayon in Angkor Thom — the capital city of the Khmer Empire — as well as Ta Prohm and Angkor Wat. Complete the day with dinner and a traditional dance performance! Breakfast and round-trip hotel transport by air-conditioned private vehicle from Siem Reap are included.
After hotel pickup by private air-conditioned vehicle, see the sunrise at Sra Srang Baray then transfer to Wat Svaylamiet for a picnic breakfast. Then start your full-day private tour of the Angkor complex at the South Gate of Angkor Thom, where 54 stone gods and demons line the road.
Next, view the centerpiece of this walled citadel, the mysterious Bayon temple, which holds 54 towers decorated with more than 200 smiling stone figures. You'll spend approximately two hours discovering the many temples within Angkor Thom, with your private guide offering a flexible itinerary, depending on your interests.
Your morning tour also visits the Royal Enclosure, Phimeanakas, the Terrace of Elephants and Terrace of Leper Kings, as well as the picturesque Ta Prohm Temple, made famous by the movie Tomb Raider. Only partially restored, the otherworldly ruins of Ta Prohm offer insight on how the Angkor complex looked before French explorers rediscovered it. Marvel at the 39 towers of this 12th-century Buddhist temple overrun by tree roots large enough to split the stone.
After about one hour exploring Ta Prohm, return to your hotel for lunch and a short break before heading out again for your helicopter ride.

Later in the afternoon, enjoy a 20-minute helicopter ride over the Angkor temple complex and Tonle Sap Lake. During your 20-minute flight, take in the true scale and splendor of this world-renowned site. After visiting Angkor on the ground, this rare aerial experience offers a fresh, bird's-eye view!
Departing from the Siem Reap airport, your pilot provides onboard commentary and points out places of interest so you won't miss a thing. Have your camera at the ready as you hover above Angkor Wat, which
appears smaller from your helicopter window
despite its enormous size.


You will also get to visit Angkor Wat on foot. It is considered the most visually, architecturally and artistically impressive temple of the entire complex. Best preserved of all the Angkor temples, it's also located within the UNESCO World Heritage-listed Angkor Archaeological Park.
You'll have time for a thorough exploration of this vast ceremonial structure including a glimpse of its enormous moat and reflection pools. Wander through the galleries where a dazzling array of beautiful bas-reliefs and ornate carvings depict scenes from the Hindu epic, the Ramayana.
In the evening, enjoy a taste of classical Khmer culture with a traditional dinner and Aspara dance performance! Afterward, you'll be transported by private vehicle back to your hotel.
« All Activities