Mekong and Tonle Sap River Sunset Cocktail Cruise with Dinner Option
Asia » Cambodia » Phnom Penh » Phnom Penh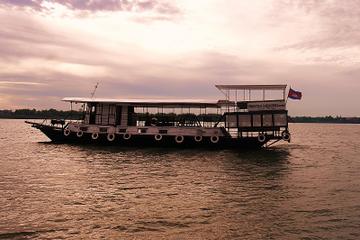 (5.0)
Duration: 2 hours 30 minutes
Departs: Phnom Penh, Cambodia
Price from USD 13.00
Book Now
Upgrade from the base cocktail cruise and enjoy an exceptional dinner cruise aboard Phoceamekong cruises. Enjoy a barbecue dinner made from fresh ingredients and try our delicious cocktails. You will be able to admire the view from the Royal Palace and also cruise along the banks of the Mekong River.
Enjoy an evening experiencing Phnom Penh from the water on this 2.5-hour cruise. Sail along the Mekong and Tonle Sap rivers at sunset, and take advantage of the all-inclusive nature of the trip, which includes unlimited drinks and delicious food.

Step on board and let yourself relax as your cruise sets off along the water. Quench your thirst with the large variety of available teas, coffee, soft drinks, beer, and spirits, while sampling different appetizers. But leave room for the main meal (if option selected), which is a western-Asian fusion BBQ consisting of shrimp, fish, chicken, and pork, all freshly cooked and prepared on board.

Take in the scenery around you as you sail along your scenic and breezy river route. There are beautiful riverside landscapes intertwined with various sites, such as the Japanese Friendship Bridge and floating fishing villages. On this trip you can truly absorb all the splendor of Phnom Penh.
« All Activities