Phare: The Cambodian Circus Show in Siem Reap
Asia » Cambodia » Siem Reap » Siem Reap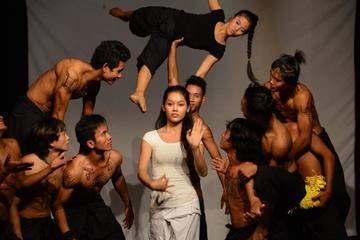 (5.0)
Duration: 90 minutes
Departs: Siem Reap, Cambodia
Price from USD 18.00
Book Now
While in Siem Reap, see the remarkable Phare troupe perform a lively show that blends circus arts with riveting theater, dance and music to tell uniquely Cambodian stories — historical, folk and modern. These young circus artists, many from the most challenging social and economic backgrounds imaginable, will astonish you on stage with their energy, emotion and talent. You'll also learn how Phare Ponleu Selpak (PPS), a non-profit association, works with vulnerable children and young adults, helping Cambodian youth transform their lives through art.
Phare Ponleu Selpak (PPS), a non-governmental organization, was established in 1994 by eight young Cambodians who returned to their country after a childhood spent in refugee camps at the Thai border. Recognizing the importance of preserving their culture and Khmer art, the founders developed social and educational programs for vulnerable children living in difficult situations — including street kids, trafficked children and orphans.

PPS has used theater and circus arts to help them reintegrate into society, vastly improving the choices available to these young people as they reach adulthood.

You'll see PPS's positive impact on the talented performers of Phare, a circus arts troupe that performs different shows throughout the year. The show (see below for the list of performances) elevates Cambodian culture, history and beliefs through music, dance, acrobatics, juggling, aerial arts, contortion and other circus skills.

You have the choice of open seating, or select an upgrade to preferred seating in front center rows that includes a complimentary beverage and gift.
« All Activities